1. Product Introduction
Fiber Laser Marking Machines series use laser beams to mark permanent surfaces of various substances. The effect of the marking is to reveal the deep material through the evaporation of the surface material, thus engrave the exquisite designs, trademarks and texts, it can be used for marking logo, serial number, bar code and other beautiful patterns on any metallic materials such as stainless steel, titanium, brass, gold, silver, aluminum and lots of engineering plastic products such as mobile cover & charger, consume electronics housing and etc.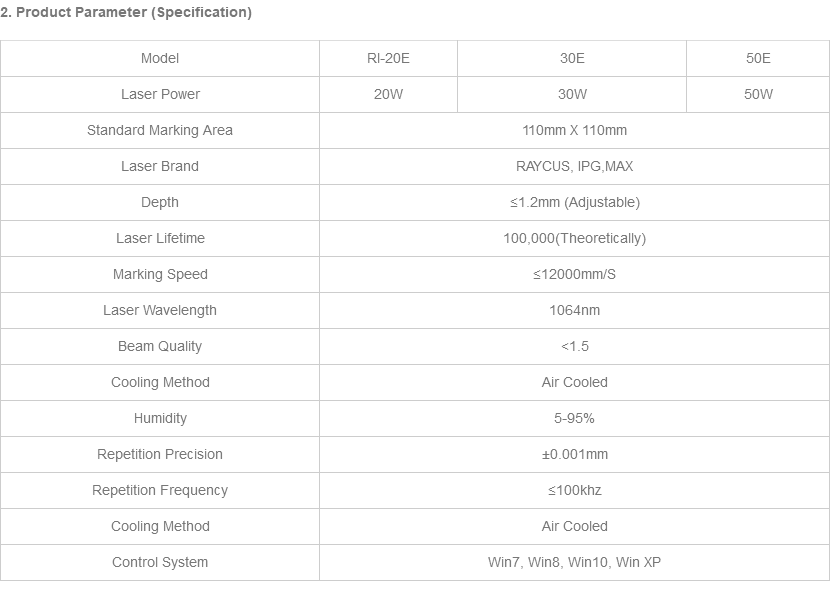 3. Product Feature
Compact: The high-tech product, which is combined of laser device, computer, auto controller and precision machinery.
High Precision: Re-position precision is 0.002mm
High Speed: Imported scanning system makes the scanning speed is up to 7000mm/s
Easily Operating:Afford the specific marking software based on Windows, which is real-time adjust the laser power and pulse frequency.
You can input and output by computer according to edit in the both of the specific marking software and the graphic software such as AutoCAD, CorelDRAW and Photoshop.
High Reliability: MTBF>100,000 hours
Energy Saving: The efficiency of optic-electrical converting is up to 30%
Low Running Cost: No consumable parts. Free maintaining.
Meet demand of environment: full enclosed cabinet protect worker, image is beautiful and compact
4. Application
1. Electrical part and component
2. Mobile(cover, battery, keyboard)
3. Jewellery(ring, bracelet), eyeglass, clocks and craft
4. Medicine package and medical instrument
5. Auto parts
6. Instrument and meters and cutting tool
7. Plastic case and building materials, PVC pipe
8. Military product and aviation and aerospace
9. Hardware fitting and accessory
10. Sanitary appliance
11. Food and beverage
12. Solar PV industry: Silicon wafer
13. Other rubber, epoxy resin, ABS, Printing ink, Coating film
5. Our Service
Pre-sale Service:
1. Application Consultation: Our consultants are aware of the global application of marking, cutting and welding technology. We are always ready to provide you with information on product, price, technology, industry solutions , share our valuable knowledge with you and provide you a optimal proposal.
2. Visiting reception: You may make an appointment to visit the exhibition hall or visit the company on site , we will provide you with professional reception staff.
Sale Service:
1. Testing: Machine will be tested and adjusted before delivery; operation manual was included.
2. Installation: we provide friendly English version manual and installation video.
3. Training: We provide free training. Also we can send engineers to your factory for training.
After-sale Service:
1. Warranty: we provide one-year warranty under normal operation, whole life service . Within Warranty period , if equipment has failure or parts damage ( excluding human factors and force majeure), we shall provide repairing solution.
2. Online service: 24 hours Technical support by phone, e-mail, Wechat or Whatsapp.