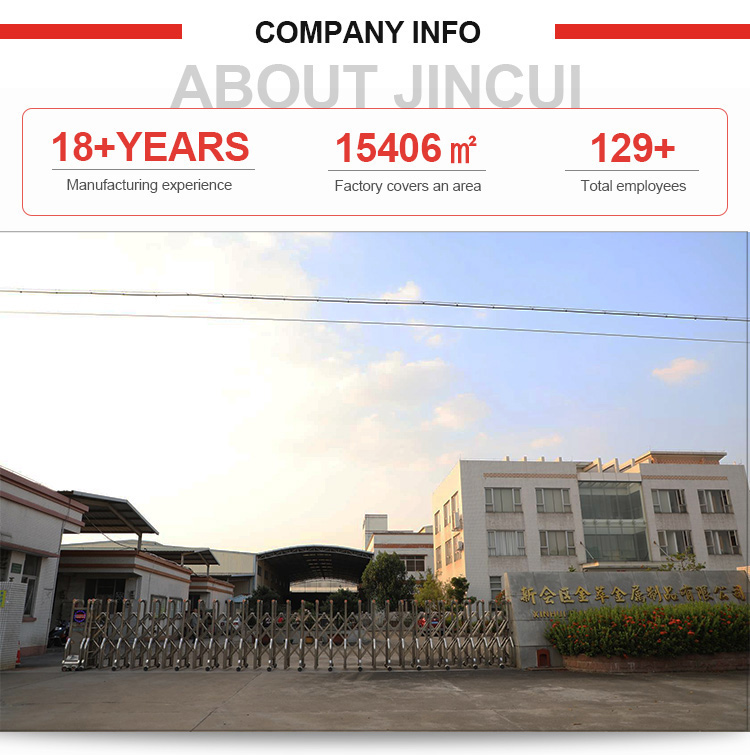 ·SINCE 2003
·About JINCUI
Jiangmen Xinhui Jincui Metalware Co., Ltd. has been concentrating in innovation, research, production and sale since it was established in 2003. After eighteen years development, JINCUI now has an occupation area of 15406 square meters and more than 129 employees. It is a modern enterprise specializing in producing stainless steel cookware products.
· Production
· R&D , Production and Factory Audit
As an export-oriented company, JINCUI has a modern production workshop with 1600 Tons impact bonding machine,complex braze welding machine,punching machine,shearing machine,pressing machine,high frequency welding machine and a high efficient polishing production line etc.to ensure efficient production. Its products sell well abroad. Besides ISO 9001:2015 Quality System Certification, Business Social Compliance Initiative Certificate (BSCI), JINCUI also passes BIG W factory audit.
· High-quality Products
· Continuous Innovation to Meet Market Demand
JINCUI specializes in producing stainless steel cookware set such as milk pot, sauce pan, stock pot, casserole, fry pan, steamer, wok, paella pan, asparagus pot etc. With years rapid development JINCUI has promoted self-owned brand "SWANK"  and "BLUE SAKURA" product to the international market by participating fairs.JINCUI maintains stable relationship with customers like CUISINART,FISSLER,SIEMENS,ELECTROLUX,Big W and others.
· Aim and Purpose
· Improvement and Achievement
All along,JINCUI insists on aim and purpose of improving product quality and achieving win-win cooperation relationship.Believing in JINCUI products,bringing world class brand products back home.