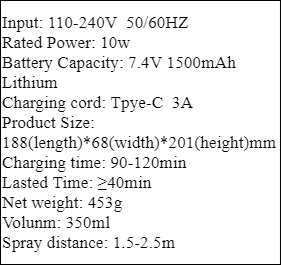 Method of operation
The rechargeable nano -blue light atomizer needs to be fully charged before use.
It takes 90-120min to charge the nano -blue light atomizer each time.
It can be used continuously for 40 mins.
Before using the machine, please fill the spray bottle with diluted disinfectant and alcohol to almost full volume (remember to reserve a certain amount of space), then tighten the spray bottle. Press and hold the button marked with M on the back. Long press the button to turn it on, when it is just started, it is one gear (lowest gear), press the button again to change to 2 gears, at this time two blue signal lights light up, press again to turn on the third gear, and the third blue signal light will be lit up. At this time, it is the highest grade and the power is the strongest.

It can be sprayed for 6-8 minutes to fill a container of liquid. When the disinfectant is almost used up, continue to add the disinfectant to the spray bottle.

The three blue indicator lights in the front are battery indicator lights. When the three blue indicator lights light up, it means that the battery is full. Two indicator lights light up, indicates that 2/3 of the battery power remains. One indicator light lights up, only 1/3 of the battery power can be used.

Attention, Beware of falling or severe collision to avoid damage to parts or main body, causing damage.