I. Usage
VMU Series is the most advanced CNC type video measuring system with 2 μm precision developed by Yihui.
It has been widely applied in machinery, electronics, mould, etc. for precision auto measurement.
Designed for rapid precision measurement & batch test in machinery, electronics, mould, etc
1. To measure point, line, circle, arc and oval, rectangular and improve the accuracy with the multi-point positioning function with clear observation.
2.Coordinate measurement, translation and coordinates straighten out.
3.Make measurement data directly into AutoCAD drafting and universal 3D Model file for professional design software like Solidwork, UG & Pro-E.
4.Record user program, editing and execute command.
5.In metrology terms, the machine can test width, length, height, thickness, straightness,flatness,
perpendicularity, circular degree, coaxiality, etc.
6.For example, the machine can test products as below:
1)Machinery: sheet metal, mould & die, gear, turning parts like bearings, shaft.
2)Electronics: phone& tablet sheet, PCB, watch parts, etc.
3)Plastics: mobile phone camera plate, cover, front bezel, slide plate, etc.
II. Features
1.It adopts TEO™ 1 /2'' color CCD camera and professional Pomeas™
auto zoom lens, big FOV, guarantee clear image during fast moving image measurement.
2.Grade 00 JINANQING granite base, goose-neck column, high stability structure. With German & Japanese auto-control technology, can achieve high precision motion.
3.Programmable control of integrated 40 group, 8 regional independent light sources, achieve professional surface measurement. Swift batch measurement help to cut labor cost.
4.Coupled with U.S. 2D+3D optical metrology software RationalVue™, wonderful measurement experience.
5.Option Renishaw™ touch probe & Keyence™ laser sensor available, high accuracy composite contact or non-contact 3D measurement available.
III. Specification
Code 04175… 001 002 003
Model VMU3020 VMU4030 VMU5030

Worktable Work Table Size(mm) 600*390 700*490 800*490
Glass Table Size(mm) 350*250 450*350 550*350
X,Y Stroke(mm) 300*200 400*300 500*300
Load Capacity approx. 20 kg approx. 20 kg approx. 20 kg
Z-axis Stroke 200(Focus) 200(Focus) 200(Focus)
Resolution 0.5μm
Accuracy E1* Ex, y ≤(2.0+L/200)μm
Accuracy E2* Exy ≤ (2.3+L/200) μm
Accuracy E3* Ez ≤ (2.5+L/100) μm
Instrument Weight (kg) 330 450 500
Instrument Dimension (mm) 620*840*1020 720*1040*1020 800*1040*1020

Motor Three-axis Max. Velocity X,Y: 400mm/s Z: 200mm/s
Three-Axis Positioning Accuracy 0.001mm

Imaging System Camera TEO™ Color 1 / 2 "CCD Camera
Zoom Lens Pomeas™ AUTO zoom lens
Zoom Lens Magnification 0.7-4.5X
Video Magnification 20-128X
FOV 11.1-1.7mm
Power Consumption 800W
Instrument Accessories 1X Tube (standard) 0.5X Tube (optional) WD
Zoom lens 0.7-4.5X 0.7-4.5X
Add Mirror Video Magnification FOV Video Magnification FOV
0.5X(option) 10X-64X 22-3.4 5X-32X 44-6.8 175
1.0X(standard) 20X-128X 11.1-1.7 10X-64X 22-3.4 92
2.0X(option) 40X-256X 5.5-0.9 20X-128X 11.1-1.7 36
* All data is tested according to Standard JJF1318-2011
L is measured length (units: mm)

IV. Structure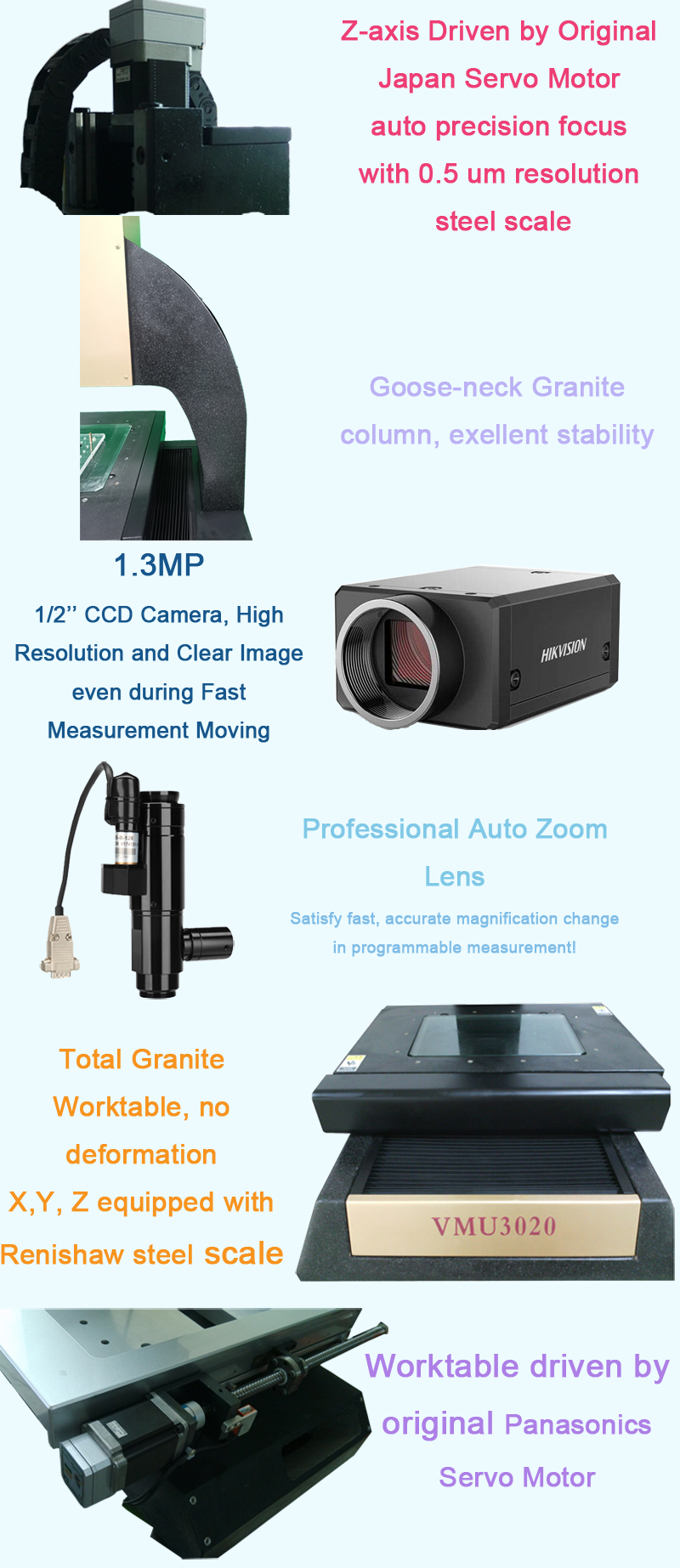 V. Software Description