LK'FURNITURE seating solution providing excellent results in terms of both quality and comfort. This is a versatile and affordable option from MinKuang Seating. It's entirely customizable, and it can also be utilized in a wide range of settings. From cinema seating, theatres, lecture halls, auditoriums, and churches or places of worship, the Contour is an excellent choice.
Providing the strength of a robust steel support system, exclusive cold molded back and foam cushions, and easy to maintain components, This is a standout in our product array. This is a seating product that extends extraordinary performance event after event, and it's a very popular model in the whole lineup.
With the MinKuang, you'll be able to choose between various upholstery options, finishes and accessories. The counterbalance mechanism keeps the seating operating quietly and properly for its full life, and the chair offers superior comfort at a reasonable price. We have different seating systemindifferent sizing options which always fit into the space you're working with while matching your goals or needs for capacity.
Is OurSeating right for you and your theatre or other venue? E-mail our team today at info(at)minkuang.com and we'll provide you with more information and walk you through your options.

 Upholstery: upholstered with durable fabric which is available for custom colors
Uprights | Base: Iron floor mounting type base in powder coating finish
Mechanism: Counterweight tip-up seat mechanism
Foam: Cold molded high resilient urethane foam
Shell: Polypropylene outerback and seat pan
Armrest: Flip-up cupholder armrest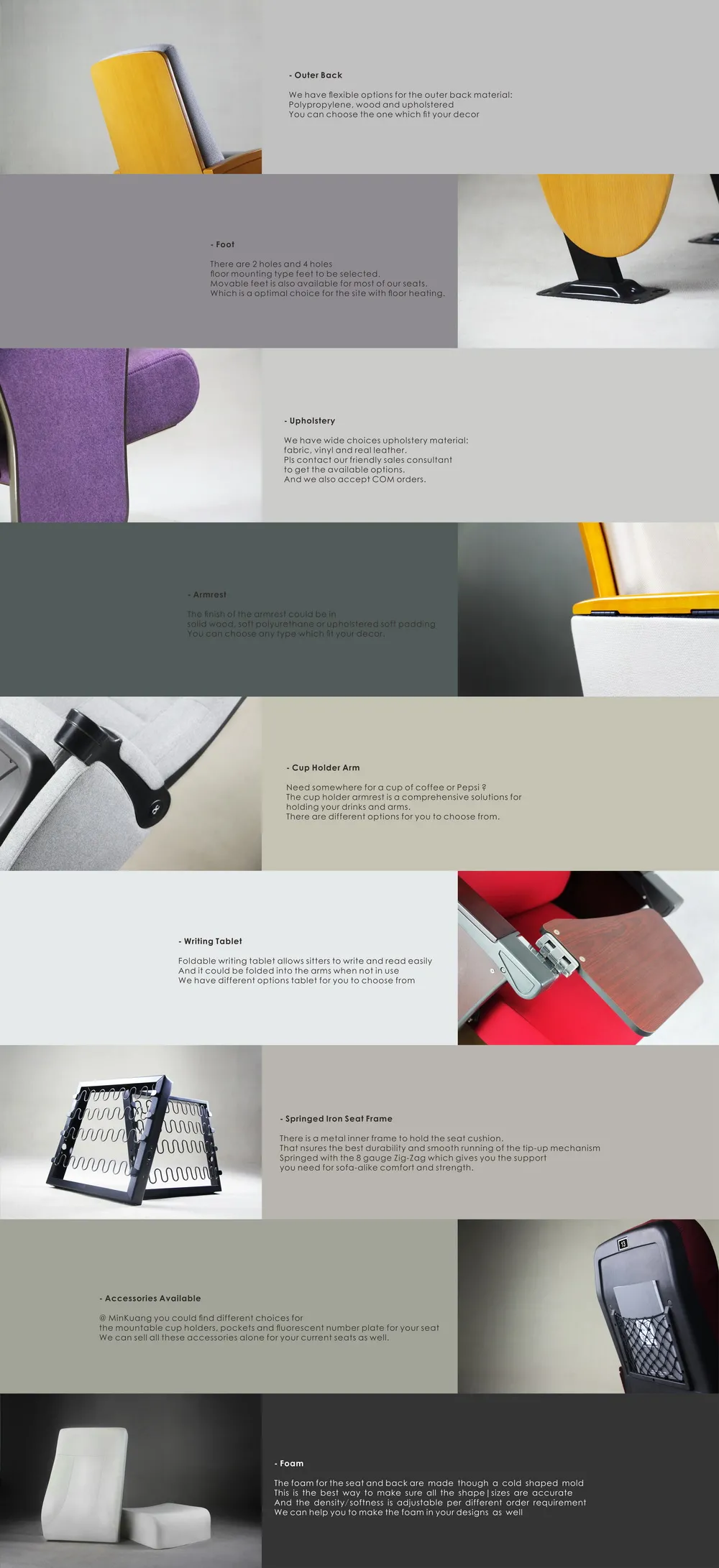 When you make the decision to work with LK'FURNITURE, you'll gain access to a nearly unlimited array of seating with different accessories and components. And you'll be able to match a wide range of looks for your facility.
When you're looking to outfit a lecture hall or university seating, for instance, choose between various tablet arms for added benefit and comfort. For churches and places of worship, you'll have the option to equip your congregation with chair components to enhance the overall experience.
For a distinctive look at your theatre.You could go for the utmost in luxury and class, with distinctive high-end choices which will help your customers enjoy a wonderful experience. You and your venue will stand out from the competition and become a destination.
At MinKuang, each detail of your seating arrangement is fully customizable. Seat accessories and options to consider include the style of armrest, aisle panel, chair back, center stanchion, seat bottom, and more. Just tell us your about your ideal requirement or just choose from our current product range and add some your own icon.
Contact us today at info(at)minkuang.com to learn more about our fantastic chairsand seating accessories. Never settle for anything which isn't the absolute perfect fit for you and your facility.
T E R M S   &   C O N D I T I O N S

Terms Of Payment:

30% in advance, Balance before delivery, Payment by T/T.

Available Trade Terms:

Fob, Exw, C&f, Cif

Sample Terms:

Buyers need to pay double for the sample (Original price is also available if there is stock)

Production Lead Time:

2 - 4 weeks

Sample Lead Time:

1 - 2 weeks

MOQ:

Please enquiry our sales team (we also sell in small q'ty when we have it in stock)

 

T E C H N I C A L   D E T A I L S

Available Finishes & Colors:

Please contact with our sales team for more options

Customized Designs & Size:

Available, please negociate with our sales team refer to the details

QC & Inspection:

We have our own QC system. And the spection by you or assigned 3rd party are also welcomed.

Production Capacity:

50 x 40'hq containers per each month

 

P A C K I N G   &   S H I P I N G

Shipping Mark:

Your logo, contact info and product details in black / red only

Package Form:

Flat package

Packing:

Standard 5 layer paper cartons

Shipping & Logistics:

Via ocean, air, courier and etc…