CNC Billet 4340 steel engine Crankshaft for Toyota 4AGE 20v crankshaft
Counterweights
Counterweights are necessary to offset the forces of the reciprocating components as the crankshaft spins. The most common is knife-edge and Pendulum Undercut counter­weights.
Also, different design could be provided according to your needs.
Specifications
Brand:Adracing

Application(s)

For Toyota 4AGE Crankshaft

Material

Billet 4340 Steel

Stoker

66mm /77mm/91mm/custom

Main Journal Diameter

48mm 

Rod Journal Diameter

42mm
Technical Features
Full CNC Machining

Various treatments are employed to toughen crankshafts for their severe-duty environment. They include heat treatments, hardening techniques, and severe-cold cryogenic treatments to stabilize the metal.

Heating treatment:HRC34-38 

Nitriding could be done. Its pri­mary benefit is the improvement in impact and resistance to wear.

 It treats the crank evenly and imparts a surface tension that increases fatigue life by 18%-20%.

Micro-polishing for longer bearing life

Peening treatment will be done after balance weight 

magnetic flaw detecting will be done according to standard JB/76729-93

 
 Essencial Features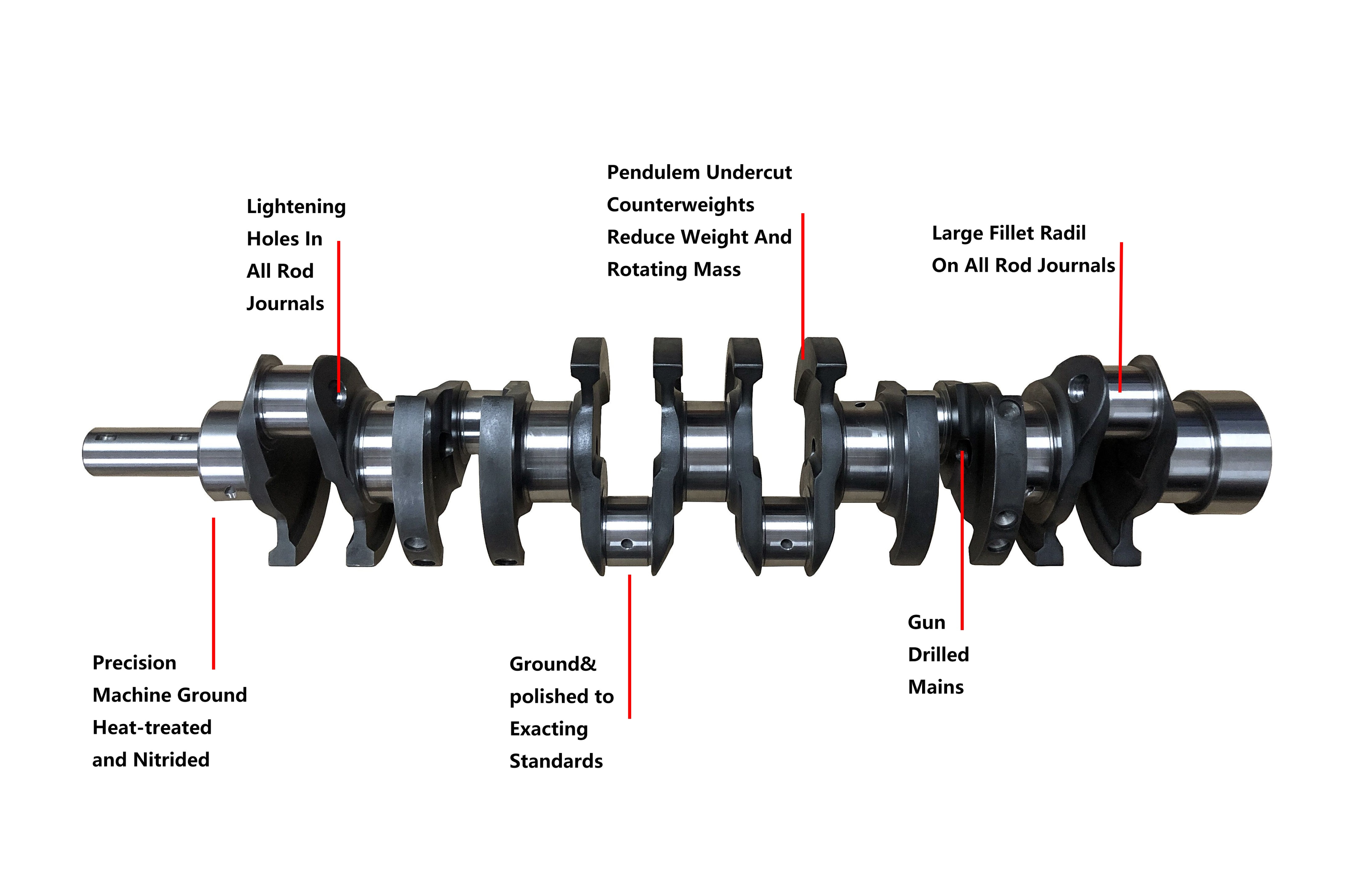 Racing crankshafts incorporate many of the essential features shown here to ensure
maximum durability and top performance.
Drilled crankpins are the most effective way of reducing rotational inertia in a racing
crankshaft without affecting the overall strength of individual crankpins.
                              Gun-drilled mains are also used to lighten a racing crankshaft.
Conventional practice incorporates oiling holes in the rod journals that are chamfered to ease
the flow of oil onto the bearing.
Note the generous fillet radius on rod journal. The radius spreads the load and removes a common point of stress fractures. 
Processing
A billet crank begins with a solid billet of material weighing several hundred pounds. The setup and programming time for this procedure is lengthy and expensive.
The machining process for a billet crank is long and precise, but the result is a superior crankshaft with uninterrupted grain structure and maximum strength.
Package
Custom Service
Delivery Time
If the goods are in stock,the delivery time is 7

-10 

days

 

If 

the goods are not in stock,the delivery time is 80-90 days

  

    

                            

 
 Contact Us