Pyrolysis is the thermal decomposition of materials in the absence of oxygen. In the case of the pyrolysis of rubber tyres, the rubber degrades under high temperatures and long-chain hydrocarbons in rubber are broken down into compounds with shorter carbon chains in the reactor, yielding oil, gas and carbon black.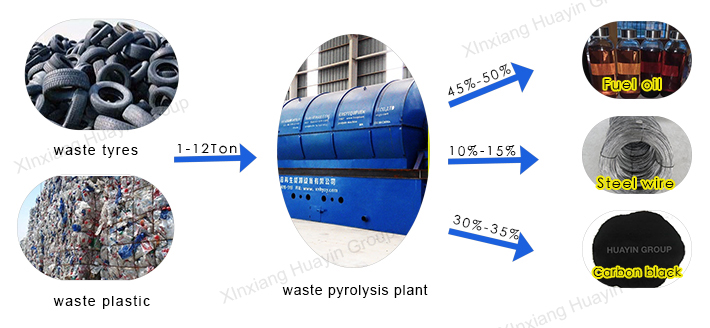 Output product and usage

1

Tyre oil 

50%

• can be sell directly.

• make diesel and gasoline by used oil distillation machine.

•can be as fuel.

 

2

Carbon black

30%

• can be sell directly.

• make fine carbon by the carbon black grinding equipment.

• make carbon brick by briquetting equipment.

 

3

Steel wire

12%

• can be sell directly.

• make steel bloom by hydraulic press-packing

 

4

Combustible  gas

8%

• can be as fuel heating the reactor

• extra gas also be storage as fuel for other heating.

 
Flow chart design
Our advantage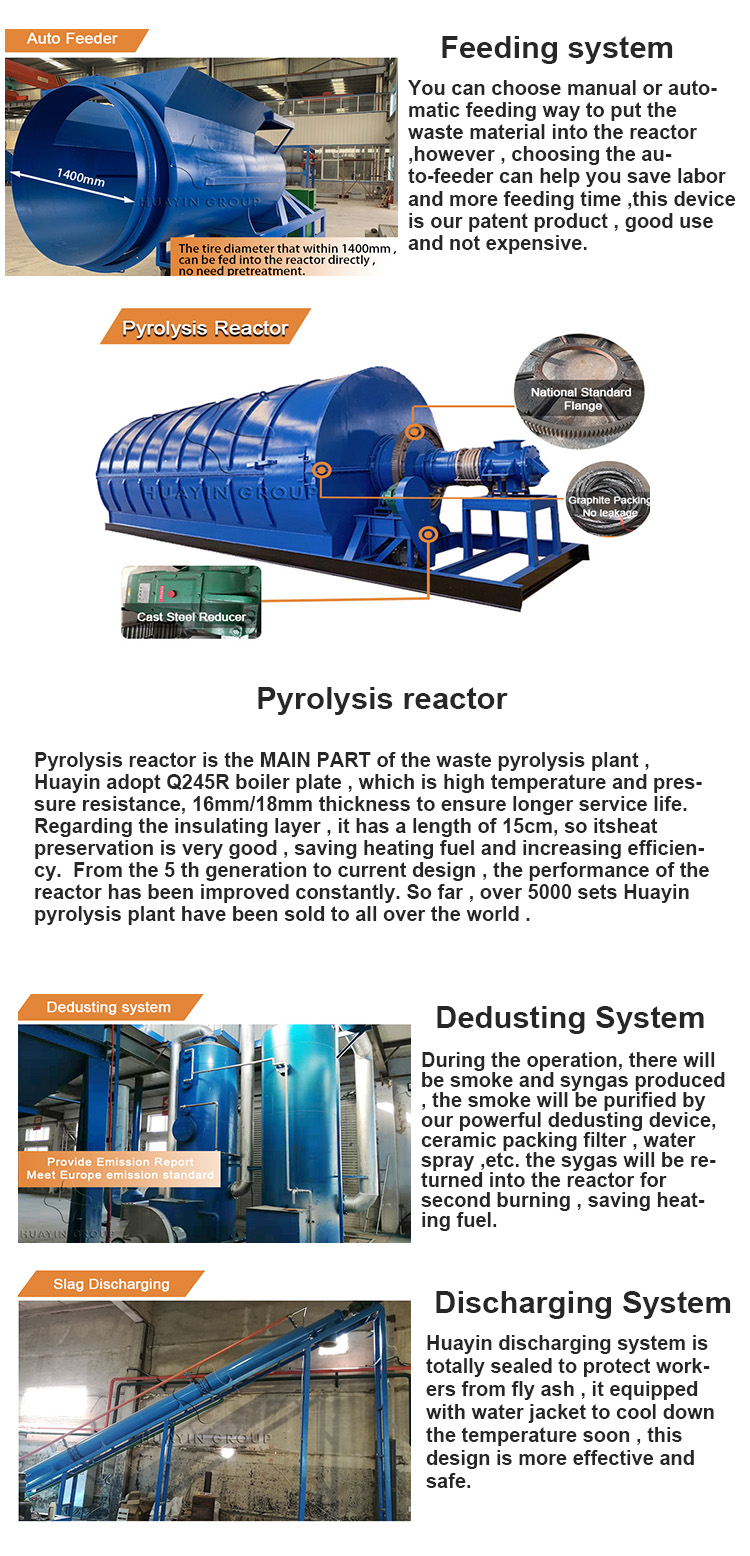 Machine Display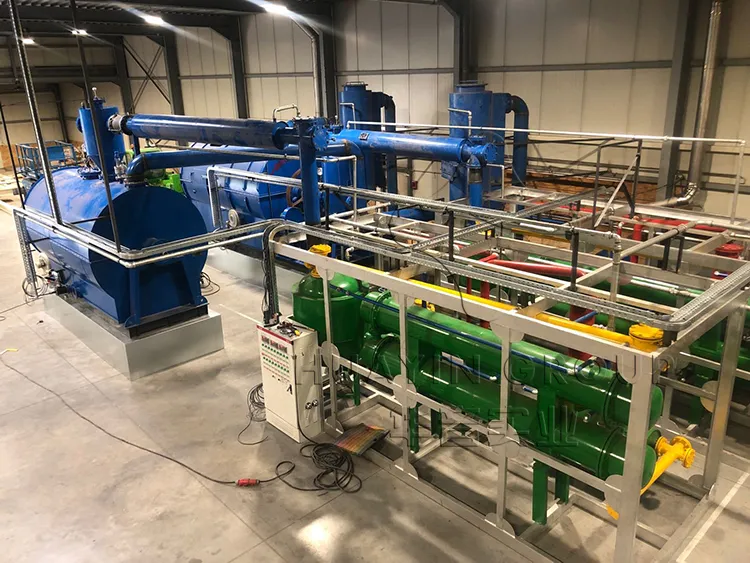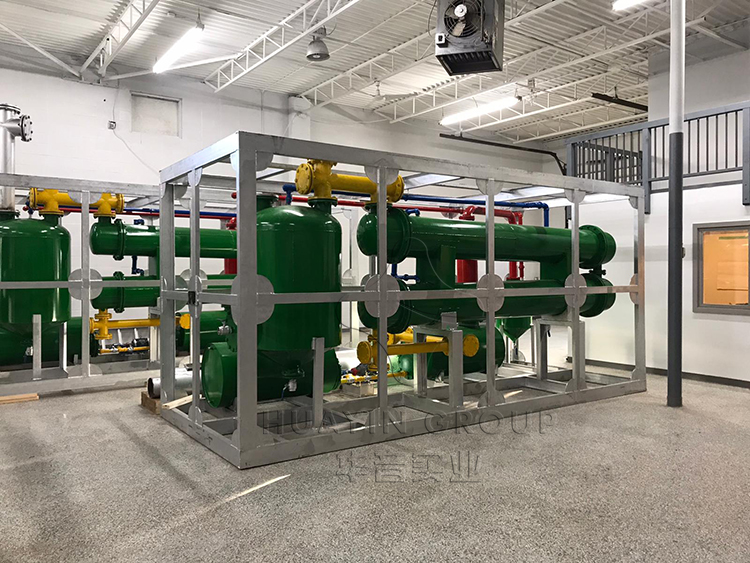 A. Safety. We treat safety as the first important thing in production.
1) Two devices to avoid backfire in production: oil-water separator and anti-back fire device.
2) Vacuum device makes reactor working under ordinary pressure or negative pressure.
3) Temperature monitoring device to avoid excessive working temperature.
4) Pressure gage to monitor the pressure. If it goes above a certain level, the bell will alarm and the safety valve will release the pressure automatically.
5) Carbon black is discharged in a closed situation to avoid catching fire.
B. Environmental protection
1) The flue gas (caused by burning fuel to heat the reactor) will be purified and cooled by dust removal device, then can be released into air through chimney.
2) The procedure to remove carbon black is working under closed situation to avoid pollution.
C. High oil yield
1. We have 3 steps for cooling system: one condenser pipe, two large horizontal condensers and two vertical condensers. The oil gas pass through 3 steps cooling system in sequence. The total cooling area is 65 square meter.
2. When the oil gas pass through the condensers, it's divided into several portions by small pipes inside condenser and be cooled separately.
3. In this way we maximize the cooling effect and improve the oil yield.
D. High oil quality
The oil gas is purified by molecular sieve inside catalyst chamber so that the quality of oil is higher.
E. Energy saving
1) The flame path is designed as spiral so that the quantity of heat can be fully used.
2) The residual gas from pyrolysis is recycled to furnace burning to heating the reactor.
3) The insulation cover is formed by 3 levels: steel plate, rock wool and refractory cement. Excellent thermal insulation effect helps saving fuel.
(Take 10ton capacity for example) (per day)

Cost

Item

Quantity

Unit Price(USD)

Total(USD)

Used tyre

10Ton

42

420

Coal

0.4

70

28

Electric

225kw

0.2

45

Salary for worker

4 workers

30/ day/ person

120

Total cost

613

Return

Item

Quantity

Unit price (USD)

Total (USD)

Crude oil

4.5Ton

900

4050

Carbon black

3Ton

20

60

Steel wire

1.5Ton

300

450

Total return

4560

Gross profit

3947

Gross profit for one month (working 25 days)

98,675USD

Gross profit annual

1,184,100USD
For more details , welcome send us inquiry !
Our service 
 Installation & Commissioning
Our engineers will help installation and commissioning to make sure the equipment under normal operation. 
Technical service and Warranty
we will training workers , offer maintenance tips , and all equipment is under lifetime service support.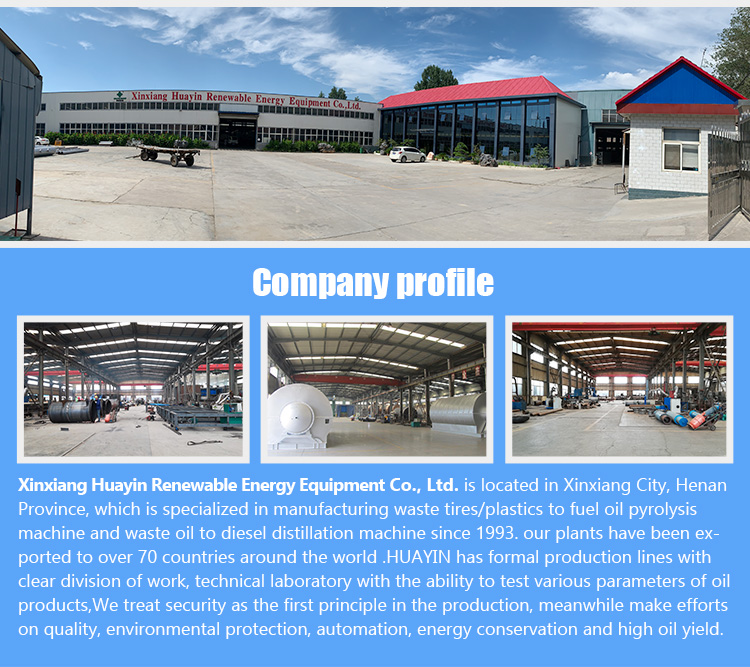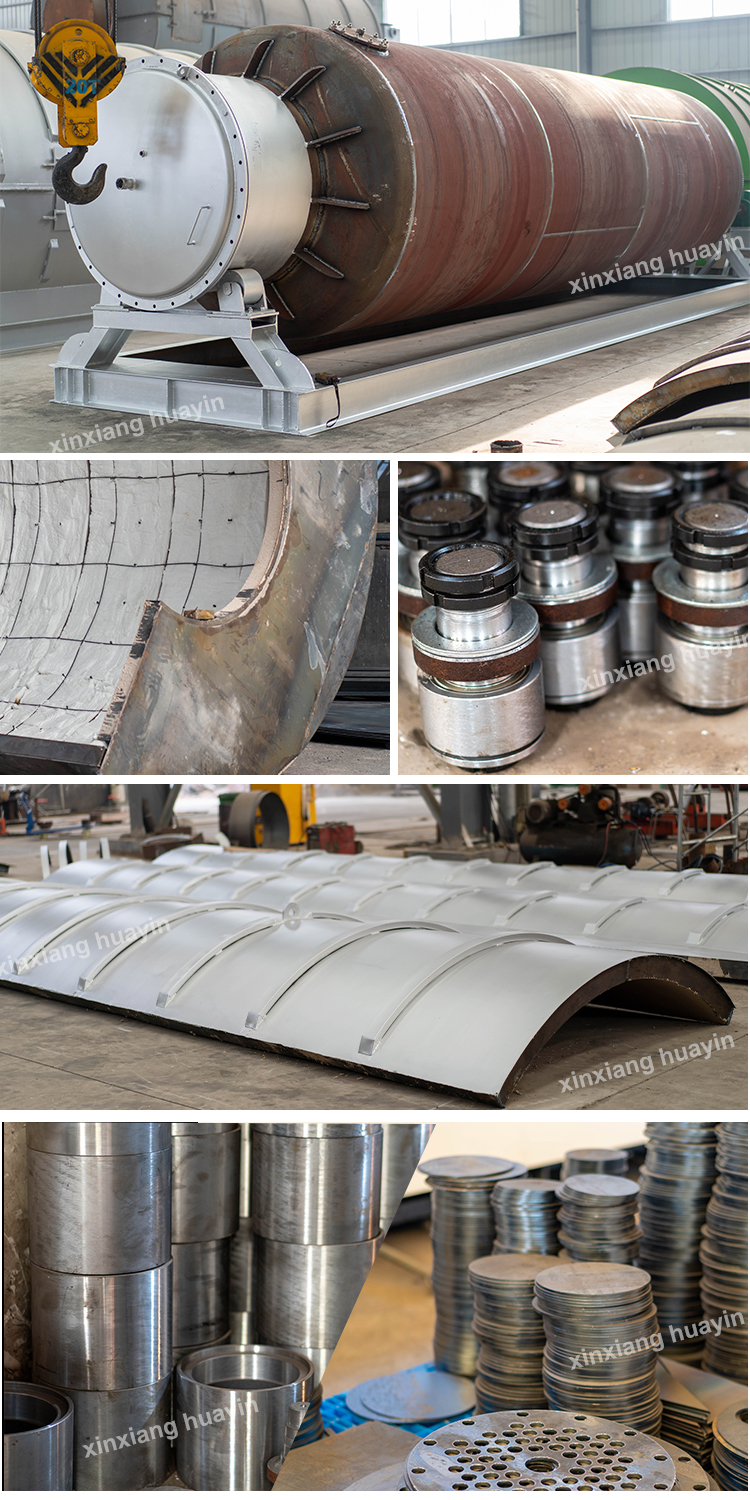 Xinxiang Huayin Renewable Energy Equipment Co., Ltd is located in Xinxiang City, Henan Province, Our company is specialized in manufacturing waste tires/plastics to fuel oil pyrolysis machine and waste oil to diesel distillation machine since 1993.
We have obtained 11 patents and CE & ISO certificates related to our machine.
Our machine have been exported to more than 65 countries all over the world including Romania , Itaian , Chile , Poland , Hungary , USA, England , Thailand, Greece, Mexico , Benin , Indonesia ,Dubai , India etc.
30 experienced engineers for domestic and overseas after-sales service.
More than 2000 square meters running demo plant for customers' visitation and learning.
For more details , welcome send us inquiry !